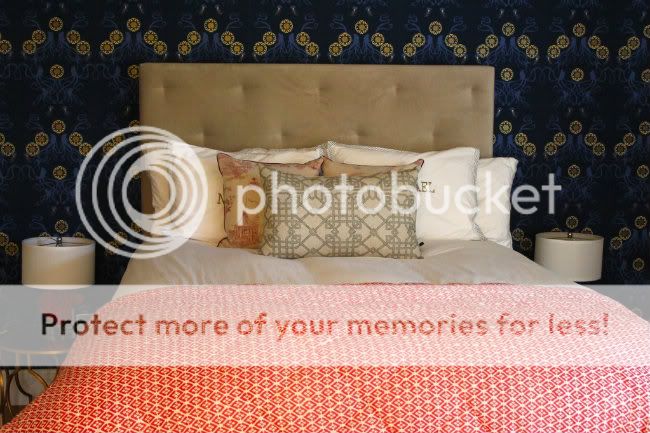 The first room to officially be done, where we spend the most time, and where I feel like you need it to be the homiest......the bedroom of course!
Remember when I posted my ideas and inspiration board here?
The final product is pretty spot on. Everything works seamlessly to me, with the exception of the night stands, my only real "dud" purhcase for the house. I lurve how they look, but alas, the bed is too high for them. Shame on me for not taking into account the boxspring when I made the measurements.
Husband and I did all the painting ourselves and even harboured grand plans to hang the paper, until we realized just how complicated a print I had selected. We threw in the towel after one look and hired a professional...which I can't recommend enough when dealing with complicated, delicate, or hand made wall paper.
Everything else is a mix/match of items I have picked up between my budget friendly Homegoods, Skinner Auctions, Jonathan Adler and West Elm! My home shopping is a little like my closet, a total mix of the high low, designer and discount, living together in harmony.
1. Wallpaper via Grow House Grow
Don't be afraid of a bold print on an accent wall. I doubled down here with a crazy print and dark color, as a contrast to the rest of the neutral walls.
2. & 7. Headboard and bedding via West Elm
3. French screen via Skinner Auctioneers
I picked up a bounty of fabulous items at the last European and Decorative Arts sale Skinner hosted and plan to head back again next week (Saturday July 14!).
4. Original curtains!
But, if I were going new, I'd do these GORG velvet stunners via Anthropologie.
I actually kept a lot of the original curtains that came with the house. I loved the patterns and this matched my scheme for the bedroom perfectly. I had to do some shopping around to find a someone that cleaned curtains at a reasonable rate, but well worth it to clean all the years of dust out (hint, I liked Dependable Cleaners).
5. X Benches, Jonathan Adler
6. Coral Lamp via TJ Maxx (Checkout this version from Linens N Things)
8. Pillows via Homegoods (More fun print here, via Jonathan Adler)
9. Nightstand, One Kings Lane
I love the pair so much, refusing to get rid of them, despite height deficiency.
Posted on
Friday, July 6, 2012 at 9:00AM
|
Post a Comment
|